If you ask old simulator builders about communication between the simulator and their PC, you will just hear:
EPIC
The EPIC card and modules are the best I could find to power a simulator. I would call it the "Gold Card" of simulator interfaces. The whole EPIC system uses different components which together give a neat powering of an simulator. There are modules for activation of lights, electric motors, modules for displays (COM and NAV Freq. For example), for rotary controls and much more. Now to the question: how much does it cost? I paid about 1100,- EURO for the following modules:
1 x Basic EPIC Card Revision D
1 x First expansion modul
1 x 32-point output modul
1 x ABA modul
4 x 64BTN modul
1 x Rotary modul
1 x Thrustmaster FLCS modification kit
1 x Thrustmaster TQS modification kit
The EPIC is sold in Europe by
Micro Cockpit
and in the US by
R&R Electronics
. Support is given by Thierry Magnan and Ralph Robinson, and it is great!
The EPIC system has a basic interface which is installed in the ISA slot of the PC and different external modules which are connected by an EPIC bus.
Diagram with EPIC card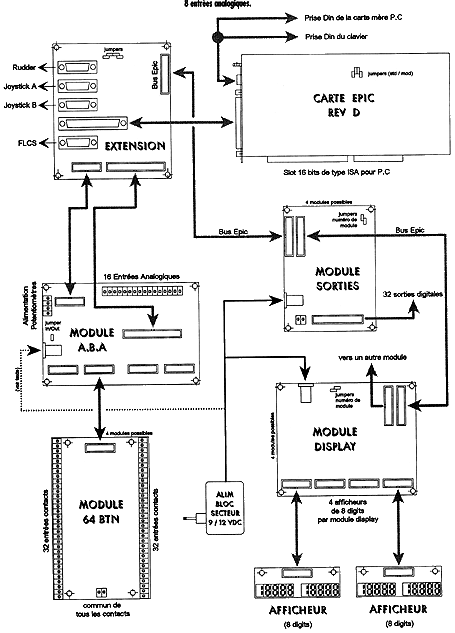 There are the following basic and extra modules:
First expansion modul
A basic modul of EPIC. Other modules are connected to this basic module. The First Expansion Module is connected to the EPIC inside the PC by a flat cable. Joysticks, etc are also connected to this First Exp. Module.
ABA modul
The ABA module is the heart of the system. You can connect up to 4 64BTN modules to it, as well as power 16 analog channels. This module is connected to the first expansion module by two flat cables.
64BTN modul
Up to 64 push-buttons or switches can be connected to this module. EPIC can then identify each of them. As EPIC registers any change of each switch and processes it separately, only one cable is required to power normal switches. The ABA can receive up to 4 64 BTN modules, which give you up to 256 different controls to be powered.
32-point output modul
Using this module, which is connected to the First Expansion Module via EPIC-Bus, up to 32 digital output channels can be powered. That means, that you can activate lights, electric motors and other devices. Each channel can handle 3 to 50V. Up to 4 Output Modules can be installed, giving you 128 channels to be used.
Rotary modul
Using the Rotary Module, rotary controls can be activated, as well as 4 optical joysticks. With the rotary control you can activate for example Com Frequencies, Data of the auto pilot as height, speed etc.
Display modul
The display module can hold up to 32 7- segment displays. These are used for example to show selected frequencies. As up to 4 Display modules can be installed, you could power up to 128 displays.
Gauge modul
The Gauge module can power electric Step-motors inside different analog instruments, like altimeter, RPM, etc. The module gives step impulses from 0 up to 255, which are sent to the motors.
FLCS- und TQS modification kit
For those who have an F-16 FLCS and TQS from Thrustmaster, a modification kit for each control becomes necessary. After the modification, all buttons and switches of the FLCS and TQS are active an can be controlled via EPIC. The modification is not to be done by a "greenhorn", as you have to take the FLCS and TQS into pieces and loosen all cables in order to install the modification kit. After that the controls have to be reassembled.
EPIC-Module

USB EPIC-Card

First expansion/ABA modul

64BTN modul

Rotary modul

TQS modification kit

EPIC in the box ;-)