Fuel Quantity Selector
Using the Fuel Quantity Selector controls also the read-out of the
Fuel Gauge
. This instrument is placed on the
center console
.
| | |
| --- | --- |
| The panel and his elements | |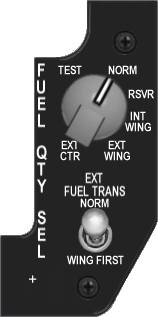 Element
Type
Position
Information
FUEL QTY SEL
Rotary switch
(6x45 deg)
TEST
Test the display, digits should show 6000 lbs of fuel, and both dial indicators should point to 2000 lbs
NORM
One gauge indicates the F/R amount, and the other the L/A quantity of internal fuel
RSVR
Show the amounts in the Fwd/Aft reservoirs
INT WING
Shows the amount of fuel in the right/left internal wing tanks
EXT WING
Shows the amount of fuel stored in any external wing tanks
EXT CENTER
Shows the amount of fuel stored in any centerline tank
EXT FUEL TRANS
2-Way switch
NORM
Fuel transfer from centerline tank first, then from the external wing tanks
WING FIRST
Fuel transfer from external wing tanks first, than from the centerline tank
Note:
The showed panel drawing is a drawing with can be downloaded from my page
Documents, plans and diagrams from the F-16
.
| | |
| --- | --- |
| The fuelsystem | |
Fuel system diagram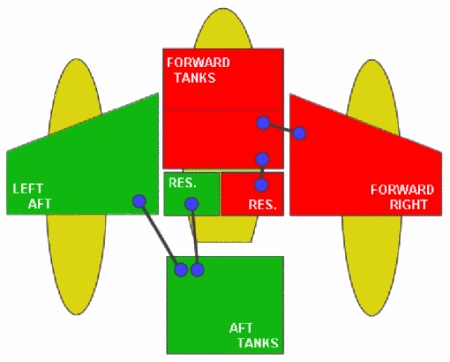 | | |
| --- | --- |
| Pictures from the Fuel Quantity Selector Panel | |
Note:
To zoom please select the picture with your mouse.